Student Projects
---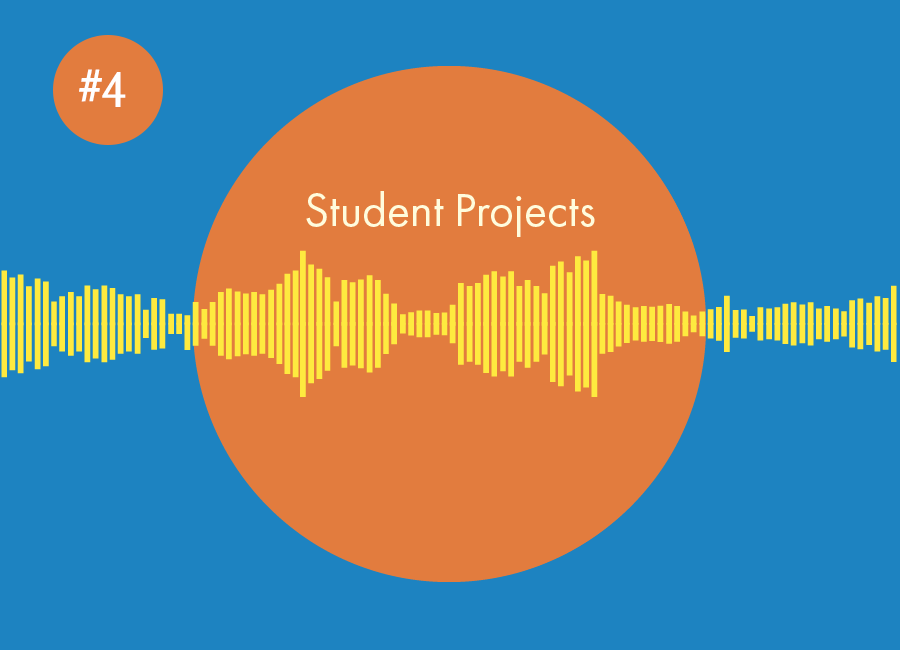 Three student projects from our classes are particularly interesting examples of the work that went into the Oral History of Isla Vista Archive: "Housing the Houseless: Pescadero Lofts" and "The Music of Isla Vista" from Josh's class, and "Isla Vista Law Enforcement" from Trish's class.
"Housing the Houseless: Pescadero Lofts"
The first exhibit, titled "Housing the Houseless: Pescadero Lofts," focused on the houseless in Isla Vista and, in particular, the Pescadero Lofts, a three-story rental housing project recently built to house those who have been living on the streets of Isla Vista.
These students pointed out that they had very specific purposes in creating their exhibit: "to [seek] out accounts from Isla Vista figures that might otherwise not have as much of a voice" and to challenge misconceptions of the houseless who are "constantly found on the receiving end of negative stereotypes."
Trish: What were some of your goals of what you wanted to kind of… like, you did the project that you care about, so what were some of your goals for the end product?

Shay: I guess super-initially was to break any stereotypes that most people, honestly, have about that population—partly because one of the first things that was said was that was a group to not choose, and that's kind of my style. I don't know, I usually do the assignment differently, and so I asked Josh and I explained to him that I do work in it, so it's not going to be just a stranger going up and getting whatever reaction happens. And… so I wanted to break any stereotypes, and then I wanted to kind of share their stories through… we didn't have time to interview as many people as I'd like, but through people who are in the service of those people, so who serve the under-served basically, 'cause both of them are not actually houseless people but they've spent forever working in that…and working specifically in that in Isla Vista and Santa Barbara. So they're hyper-knowledgeable about that.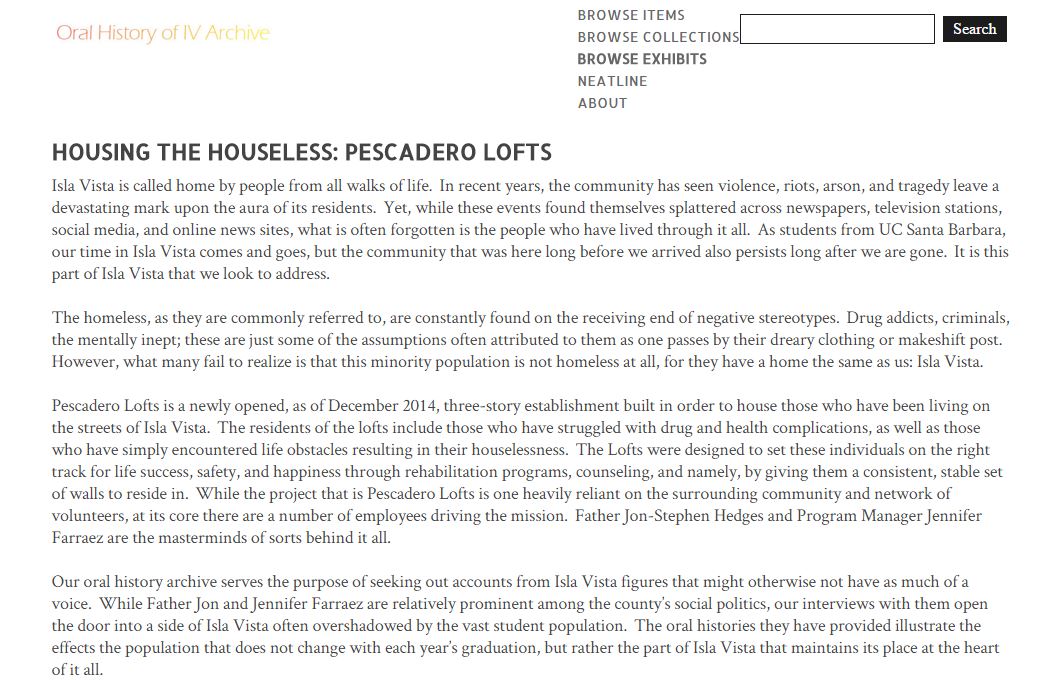 HOUSING THE HOUSELESS: PESCADERO LOFTS

Isla Vista is called home by people from all walks of life. In recent years, the community has seen violence, riots, arson, and tragedy leave a devastating mark upon the aura of its residents. Yet, while these events found themselves splattered across newspapers, television stations, social media, and online news sites, what is often forgotten is the people who have lived through it all. As students from UC Santa Barbara, our time in Isla Vista comes and goes, but the community that was here long before we arrived also persists long after we are gone. It is this part of Isla Vista that we look to address.

The homeless, as they are commonly referred to, are constantly found on the receiving end of negative stereotypes. Drug addicts, criminals, the mentally inept; these are just some of the assumptions often attributed to them as one passes by their dreary clothing or makeshift post. However, what many fail to realize is that this minority population is not homeless at all, for they have a home the same as us: Isla Vista.

Pescadero Lofts is a newly opened, as of December 2014, three-story establishment built in order to house those who have been living on the streets of Isla Vista. The residents of the lofts include those who have struggled with drug and health complications, as well as those who have simply encountered life obstacles resulting in their houselessness. The Lofts were designed to set these individuals on the right track for life success, safety, and happiness through rehabilitation programs, counseling, and namely, by giving them a consistent, stable set of walls to reside in. While the project that is Pescadero Lofts is one heavily reliant on the surrounding community and network of volunteers, at its core there are a number of employees driving the mission. Father Jon-Stephen Hedges and Program Manager Jennifer Farraez are the masterminds of sorts behind it all.

Our oral history archive serves the purpose of seeking out accounts from Isla Vista figures that might otherwise not have as much of a voice. While Father Jon and Jennifer Farraez are relatively prominent among the county's social politics, our interviews with them open the door into a side of Isla Vista often overshadowed by the vast student population. The oral histories they have provided illustrate the effects the population that does not change with each year's graduation, but rather the part of Isla Vista that maintains its place at the heart of it all.
As they write in their introduction, "The Lofts were designed to set these individuals on the right track for life success, safety, and happiness through rehabilitation programs, counseling, and namely, by giving them a consistent, stable set of walls to reside in." Students met with and interviewed two key figures that played critical roles in both the support of the houseless in Isla Vista and in the creation of the Lofts themselves, Father Jon-Stephen Hedges and Program Manager Jennifer Farraez.
Shay: Well, first we were deciding what group to do and bounced around some ideas, but pretty quickly we were satisfied with this one. And then it was scheduling people in the same place which is always, I think, the hardest task of any project ever. And we didn't actually manage to get anyone else to be able to meet me to interview them, which was unfortunate. But everyone else kind of helped with the back-end of things like transcribing and all the editing after and getting it onto the website. And then it was just set up a meeting with the two people I wanted to interview. And I interviewed them, actually, on the same day 'cause Father Jon works in the Lofts and Jennifer lives there, so it wasn't too difficult to get them at the same time, at the same place, for once. And they were pretty open to the idea; Father Jon's been… if you look him up, he's on YouTube, they've been interviewed for things, they're not too shy about doing that. So, we interviewed them, and I got all the files on—I used Audacity on my laptop—and then I brought it back to my group. And we spread them out, broke them up into… they had to be a certain size, which was one of the, probably, the larger limitations of this project is having the file size have to be so small—I think it was 50 megabytes or something? So, the interview would be broken up into almost just questions—it wasn't even a certain amount of… I mean it wouldn't make sense to do time—it was just one question. So we broke them up and then spread the pieces between the group members and transcribed it and put it up, and then someone did metadata for them. That was pretty much the gist of that.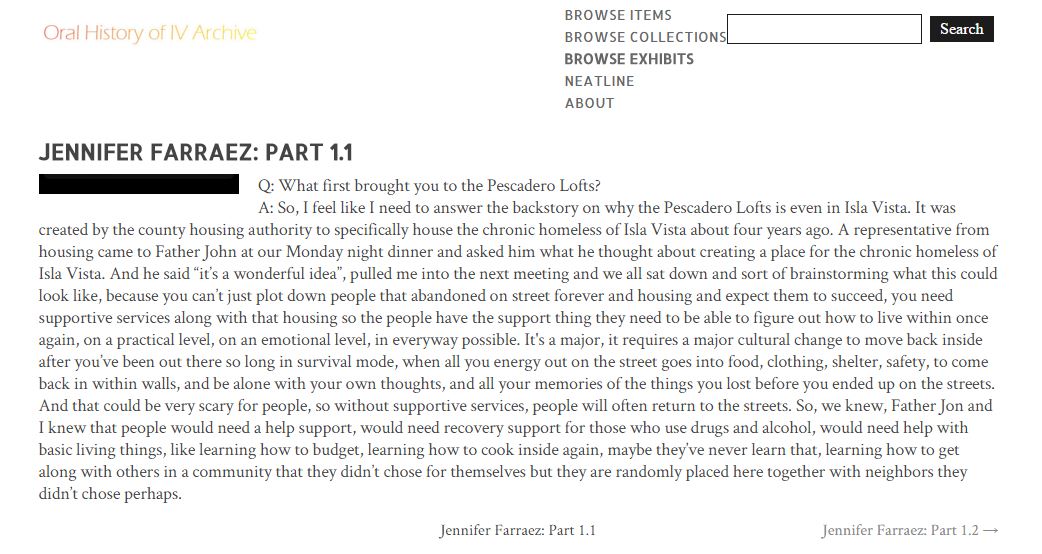 Note: This transcription is unaltered in order to leave the original student work intact.

JENNIFER FARRAEZ: PART 1.1

Q: What first brought you to the Pescadero Lofts?

A: So, I feel like I need to answer the backstory on why the Pescadero Lofts is even in Isla Vista. It was created by the county housing authority to specifically house the chronic homeless of Isla Vista about four years ago. A representative from housing came to Father John at our Monday night dinner and asked him what he thought about creating a place for the chronic homeless of Isla Vista. And he said "it's a wonderful idea", pulled me into the next meeting and we all sat down and sort of brainstorming what this could look like, because you can't just plot down people that abandoned on street forever and housing and expect them to succeed, you need supportive services along with that housing so the people have the support thing they need to be able to figure out how to live within once again, on a practical level, on an emotional level, in everyway possible. It's a major, it requires a major cultural change to move back inside after you've been out there so long in survival mode, when all you energy out on the street goes into food, clothing, shelter, safety, to come back in within walls, and be alone with your own thoughts, and all your memories of the things you lost before you ended up on the streets. And that could be very scary for people, so without supportive services, people will often return to the streets. So, we knew, Father John and I knew that people would need a help support, would need recovery support for those who use drugs and alcohol, would need help with basic living things, like learning how to budget, learning how to cook inside again, maybe they've never learn that, learning how to get along with others in a community that they didn't chose for themselves but they are randomly placed here together with neighbors they didn't chose perhaps.
In particular, the experience of interviewing the key figures for this exhibit had a great impact on Shay, one the group members who was especially committed to the project.
Shay: I actually interviewed Jennifer in her home, so that was an ordeal, like different. And it was very… she was very welcoming and it was very laid-back 'cause it was just in her home on her couch. In the structure that was literally built to [alleviate] the problem that they were talking to me about. So it was very like… this is kind of surreal. It's just simple, it's in someone's house, but it actually… it's not just a house to any of the people living there. It is to me, but not to them. And just thinking about those little things and… you could hear like… she told me about—she's a social worker—so she told me about her journey to getting there, so you can kind of hear all these things in her voice, like the different painful events that they've gone through. Like Father Jon has… he talks about, he has a wall in his office that's all just people who have died on the street——and so, you can hear, sort of, the sadness in his voice over that or different things, and I find that pretty interesting. And I don't know that you'd focus on it if it was just a video.
Finally, Shay's experiences with sound inside and outside of the classroom are really an important part of her life. As she describes here, Shay devotes a lot of her time to both traditional writing and soundwriting simultaneously. So, the opportunity to soundwrite in class was a pleasant surprise.
Trish: And so, but you work at the radio station [UCSB's on-campus radio station KCSB FM], so could you tell me about your impression going into this project given your experience and your interests?

Shay: So, I think with that it's like, I initially already highly value sound. I think music is awesome and I think… I'm the promoter there, so I love live music, to be specific. I think that's something people should regularly be involved in, either making or doing or listening or writing about… So I already highly valued sound, and I already value the whole thing I'm saying, just paying to just noise because noise alone can tell a whole story and set an entire mood and tone just by itself without pictures or words or like a person in front of you even. You don't have to have the band in front of you to create the mood or anything—although that's great—that's my favorite thing to do. So I think I was like, "Oh, I get to do something that's not writing? That's cool but it's—at the same time—completely related." Which I see as well because the shows that I also have on the air are public affairs, so I write a script anyway. I do both for it—a lot of what I do is sound and writing. And I guess most people kind of didn't before this—this was maybe their first exposure to it.

Trish: Can you talk to me a little bit about that—what do you think is that relationship between sound and writing?

Shay: Ummm… writing…

Trish: That's like a super-hard question, but like: go!

Shay: Writing tends to precede a lot of sound, maybe? Like you'll write a speech before you give it, I write… usually write my shows before I have them or… like, I had a science show and that one was much more prepared; and then I had a music news show and that one—was still prepared though I'd write points I wanted to make, though maybe not as explicitly. Because in the science show, I wanted to be very clear, and the point of that was education and the music one was more about culture. So, I guess writing tends to precede a lot of sound—and then even musicians, not all of them—they used to write music before they performed it. So it precedes a lot of sounds—that's the first thing I thought of when you asked that.

I think that they can play off each other very well, though, because, like one thing… I like radio… so NPR is great because it is very multimedia. They have a transcript—but it's not exact and they have… they always have the audio file and always have a photo or artwork. So it's very multimedia, and it really enhances their storytelling ability. I feel like that is what sets them apart from other things, is that they are good at telling a story and you secretly learn a thing. And I think that's what I always set out to do on air too—I like secretly teaching people things. So, they can't really do one without the other—they can't not have the written thing and they can't not have the audio or even the artwork or whatever; I think they all work very well together. But having anything separate has you focus on it alone. So I think that what was interesting about our specific project, too.
"The Music of Isla Vista"
Taking a less serious approach, another student group created an exhibit titled "The Music of Isla Vista." This group explored the vibrant music scene in Isla Vista and focused on three bands actively playing at venues in Isla Vista. These bands were entirely comprised of students from UCSB and neighboring Santa Barbara Community College, and all resided in Isla Vista. In particular, this group aimed to focus on the bands' experiences performing in Isla Vista "with crazy tales ranging from stolen mics in the middle of shows to crazy landlords shutting down practices."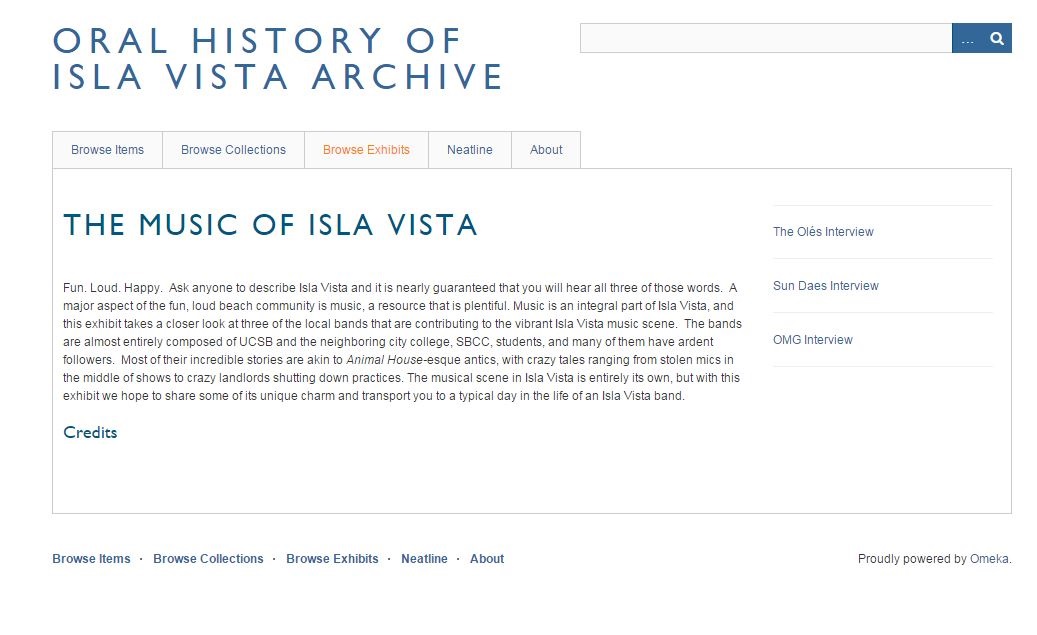 THE MUSIC OF ISLA VISA

Fun. Loud. Happy. Ask anyone to describe Isla Vista and it is nearly guaranteed that you will hear all three of those words. A major aspect of the fun, loud beach community is music, a resource that is plentiful. Music is an integral part of Isla Vista, and this exhibit takes a closer look at three of the local bands that are contributing to the vibrant Isla Vista music scene. The bands are almost entirely composed of UCSB and the neighboring city college, SBCC, students, and many of them have ardent followers. Most of their incredible stories are akin to Animal House-esque antics, with crazy tales ranging from stolen mics in the middle of shows to crazy landlords shutting down practices. The musical scene in Isla Vista is entirely its own, but with this exhibit we hope to share some of its unique charm and transport you to a typical day in the life of an Isla Vista band.
This group met with the members of The Oles, The Sun Daes, and OMG, a band of international students, and asked each band about how they formed, what their experiences were like performing in Isla Vista, and how their experiences in California and Isla Vista have inspired their music.
Trish: What were the steps or what was your main process for completing it?

Arie: So, well, first we had to settle on what group we were going to do, and once we had locked it down to local bands, we had to find which local bands were actually still in Santa Barbara—because it turned out a lot had graduated that past June, and since it was a summer quarter, we had to figure that out and once we figured out which bands were still around… well, before that we figured out what questions we wanted to ask them. We came up with a list of twenty questions that we would ask the band members and… then once we'd settled on our list of questions—we kept the same questions for each band—and then we reached out to each band through Facebook, and once we got replies, we set up meetings with them. And a couple were at their practices so we had to go and it was pretty cool. We got to listen in on their practices and then usually just talk to them and have a conversation while they were practicing, so that was really cool. But the transcription afterwards was just… horrible. There was music and just transcription in general was not fun. And then, after that, yeah, we recorded just… we either recorded or had them send us a file of their songs, or like one of their songs that we then spliced in with our interview with them, and then we put it all up on the website with the transcriptions and kind of just tried to create a cohesive portrait of the current scene circa summer 2015.
Trish: Can you just tell me about the project? What did you do?

Jake: So first he gave us the project, and, from there, we had to think of kind of a theme to go for, so our theme was "Music of IV" so it kind of had to capture some part of an IV custom or an IV experience, kind of. So what we did was we had to get an interview with a few bands—I knew a band named Sun Daes and then a couple other of my teammates knew bands.

I think I'm personally interested in music a lot, and so I think that kind of had to do with it and also, because my roommate was in a band, I thought that music's such a big part of IV—and we go… they have concerts on the weekend, they do stuff in the Hub [an event space on campus], they have IV band battles and stuff like that—so I thought that it was such a big part of the culture in IV that I wanted to capture that.
"Isla Vista Law Enforcement"
For Trish's class, the work of Betsy and her two group members highlights the effective use of audio. Their project, titled "Isla Vista Law Enforcement" researched the history of police in Isla Vista and the current policies regarding training and placement of police in Isla Vista. Most importantly, the students used audio from interviews in order to feature four members of the Isla Vista foot patrol, the community policing unit that works most closely with UCSB students.
Betsy: We thought we were going to do purely just clippings from the web, and content from the web, but then we went to office hours with Professor Fancher and she said it would be pretty cool if you interviewed the cops. So our project was about what the cops thought about Isla Vista and hearing their voices instead of just students. Because we see a lot on social media where students just complain or say bad things about the cop. So, we wanted to hear their side and then. So we thought interviewing them would give them more… hearing someone's voice you give them more of their character… more personal… it's more personal. And then our website was basically focused on audio, so we had different pictures of the police and then people could just click on them and see what they have to hear for each of the questions. It was a good experience—we all basically learned how to use all the software last quarter, so it took a lot of time to figure out Adobe Premiere and Adobe Muse. But in the end it all turned out ok—it was a functional website.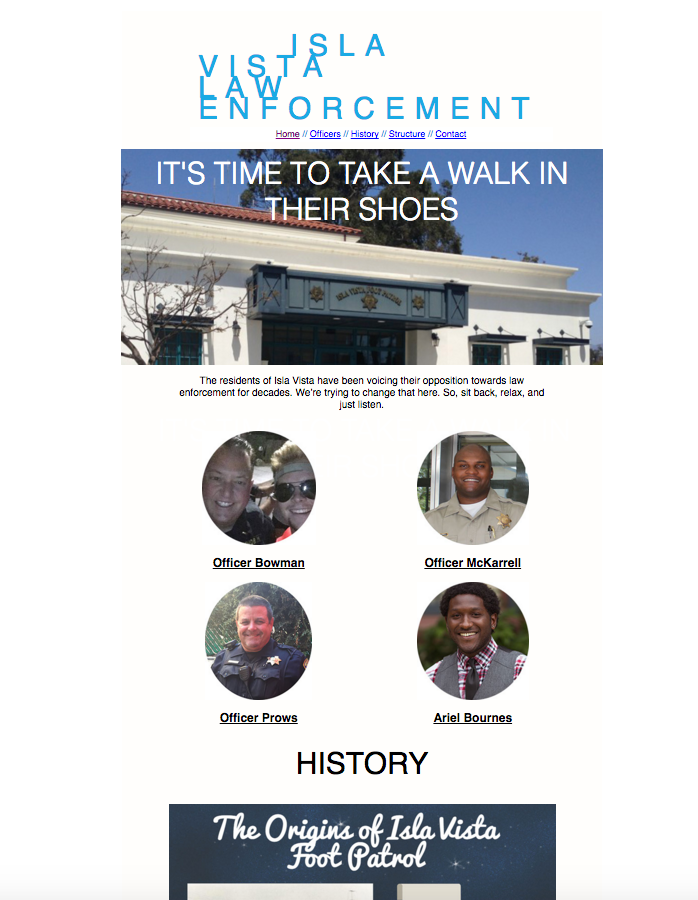 Isla Vista Law Enforcement. It's time to take a walk in their shoes. The residents of Isla Vista have been voicing their opposition towards law enforcement for decades. We're trying to change that here. So, sit back, relax, and just listen.
In her reflection on the project, Betsy explains more about what she got out of the project:
Betsy: Before this project, I did not know anything about the law enforcement in Isla Vista. Also, I rarely interacted with any of them in the past three years that I've been here. By conducting interviews with the police and researching how they are integrated in Isla Vista, I was able to learn a lot about their view and how they operate in an unincorporated area. Through this project, I learned to integrated research, creative writing, and different mediums to share a story.
And regarding the group's use of audio, Betsy reflected upon the importance of sound. Sound shows the unique voice that speaks the humanity, sincerity and character of these police officers:
Betsy: My group wanted audio to be the main focus for our multimedia project. We wanted to give a voice to the Isla Vista police officers because we always hear the voices of the residents who complain or praise the law enforcement. With this, we are able to hear the officer's own unique voice. It reminds our audience that the police are humans too. We can hear the sincerity and get an impression of their character in their voice. This is something we cannot fully understand or sense by reading words. These are the affordances audio can provide to multimedia storytelling.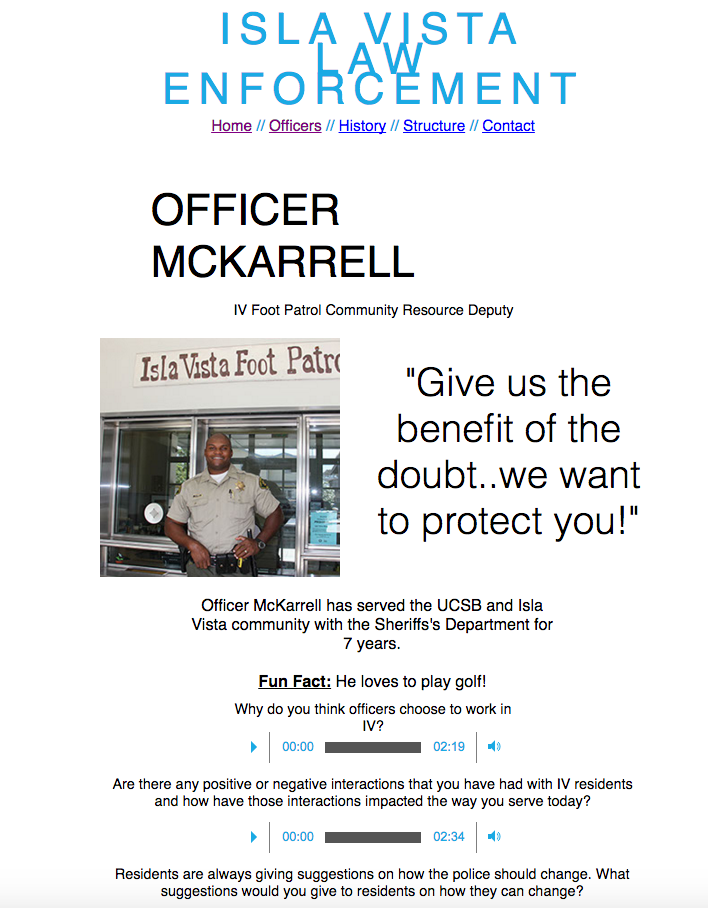 Isla Vista Law Enforcement.

Officer McKarrell, IV foot patrol community resource deputy.

"Give us the benefit of the doubt… we want to protect you!"

Officer McKarrell has served the UCSB and IV community with the Sheriff's department for 7 years.

Fun Fact: He loves to play golf!

Why do you think officers choose to work in IV? [image of embeded audio file]

Are there any positive or negative interactions that you have had with IV residents and how have those interactions impacted the way you serve today? [image of embeded audio file]

Residents are always giving suggestions on how the police should change. What suggestions would you give to residents on how they can change?
You can hear what she is writing about in Betsy's edited clips of Officer McKarrell's interview below. First, one that focuses on what McKarrell finds unique or special about Isla Vista:
Betsy: What makes officers choose to work in IV? What makes IV unique?

McKarrell: Well, it's super, super diverse. There's a lot going on here. And a lot of our deputies, some of them are younger so they can kind of communicate with people their age. Working out in the community outside of IV, it's a totally different beast. It's completely different.

It's a very unique place here. And I think it's fun for a lot of them, quite honestly. They get exposed to so many different things. It's fast paced. IV has its own frequency on the weekends, pretty much. We get such a high volume of calls here that, uh, we can't have it tied into other parts of the county. So on any given day, you can do any different thing here. And I think for our up-and-coming deputies, it's something that they should all do. Because you are exposed to a lot.

You get to see a lot of different perspectives, like, again, it's so unique working with the minds of the university/students of the university than what we normally deal with, which is just community members. Jumbling all of those things into one pot: You're going to be better for it. You're definitely not going to be bored. I don't ever remember being bored out here. And I think that's part of the excitement and why they want to come out here.

Because, we're a county agency and in some parts of the county you're kind of stuck with what you get. Over here, you might have a lot of money; you might not have a lot of money. You might get one race or nationality. But here, you get everything under the sun. One day I may be sitting here talking to you as an officer and the next I may be giving a presentation and next I may be chasing a bad guy through the streets doing lord knows what. Or a streaker, or you know. So, I think they volunteer to come to this substation because it's fun, it's a lot of activity, and they'll grow.
And another in which McKarrell expresses his care and concern for UCSB students:
McKarrell: I've had pretty… nothing but positive dealings with the community at this point. I've had an opportunity to meet with the actual residents and business owners and different people of IV and speak about their concerns.

I know that the community is ready for a change. That was apparent from Deltopia and Halloween [major parties within IV]. I know that they're ready to jump on the bandwagon, so to speak, and support law enforcement and our efforts. However, there are concerns about some things that law enforcement does. So, knowing that, we've been able to work out meeting times where we can discuss some of the community issues, whether that pertains to the Latino community, Black community, or any other community, any portion of the community here in IV. We've been able to sit down and talk about these things. I can't say anything negative at this point. I have a newly appointed position at my job, where I hear people's concerns and relay that to see how me and the upper brass can figure out some of these problems, these community issues.

I wasn't here for the shootings. I worked in Carpinteria. I was here the night of the shootings and I had to stay behind in Carpinteria to take care of that place. But there was a change. There was this overwhelming presence of support. And it seems recently that that just dropped off the face of the earth.

So I don't know, I think that media has played a big role in changing the way people are perceiving cops and the work that we do nowadays. But again, I can speak for Sheriff's department and all of UCPD and all law enforcement, and at the end of the day, we're just trying to protect people. Even if we have to protect them from themselves, that's what we're going to do. And, sometimes, people can perceive that as us being the big brother or daddy telling people they can't have fun. But I assure you that, if there's a law or a rule, there's a reason for it.

So I say to the community members that may not understand what we do, at least give us the benefit of the doubt and the confidence to know that we're out here trying to do the best we can by them. But, as far as negative interactions at this point, I haven't had too many.