Charlie: A Gay Undergraduate's Story of Personal Journey through Reflective Writing
The final student whose examples I would like to share is named Charlie, a first‐year student at East Carolina University and a gay‐identified male. He grew up in a town of about fifty thousand people about an hour away from ECU.
Charlie's example work comes from his 200-level conversational Spanish course. While not an English course, this course was writing intensive in Spanish. Students were asked to keep an online blog (see Fig. 2.1) about any set of current issues not only in the Spanish language but from a point of view relative to the Spanish‐speaking world. For the assignment Charlie developed a blog entitled "Comunidades LGBT en el mundo hispano" or "LGBT Communities in the Hispanic World," which he agreed to share excerpts from and translate for this project.
Reflecting on his research about LGBTQ experiences outside the United States, Charlie wrote on his blog at the end of the semester in a post titled Una conclusión: Agradecido"("Conclusion: I'm Grateful"):
This semester, I chose a very controversial topic. I chose to study some LGBT communities in the Hispanic world. The first thing that I found is that it's not so different, as I originally thought. But, the second thing is that it is different, and not in a good way. In Spanish speaking countries, being gay or lesbian is not accepted as easily as it is in the United States. Many people in these families fear that their family is not going to accept them how they are. These same people experience much discrimination from their family, friends, coworkers, and public in general.
Charlie's blog entries for the semester demonstrates his investigation of LGBTQ people's plight in Spanish-speaking countries: Figure 2.1, "Bienvenidos a mi blog" ("Welcome to My Blog") depicts the status of gay marriage around the world; another post (fig. 2.2) links to a short video presentation he created entitled "Dos parejas del mismo género fueron concedidos licencias de matrimonio" ("Marriage Licenses Granted to Two Same-Sex Couples").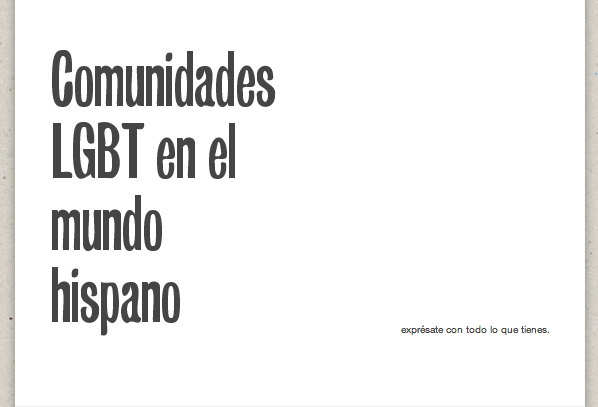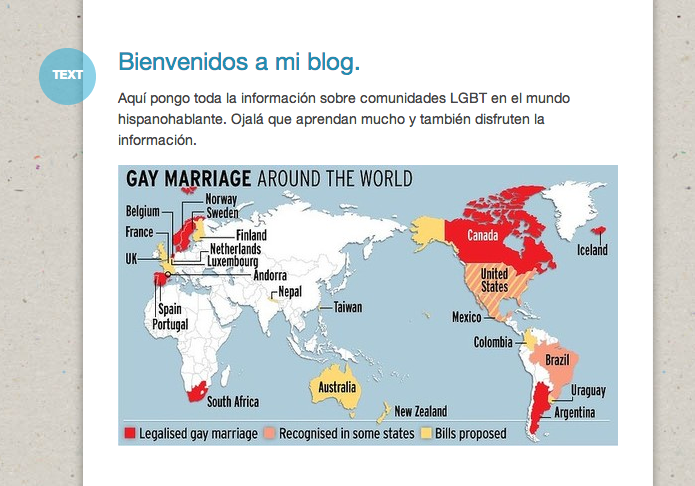 In a post titled Stonewall 25: Case 9, Gay and Lesbian Themes in Hispanic Literatures and Cultures" (Fig. 2.3), Charlie explains:
This is a summary of an article, written by me, the creator of the blog, that describes how sexuality and sexual identity are not as visible in the public spectrum of daily lives of Hispanics, as it is in the United States. Many Hispanics believe that this is a private part of a person's identity, and it is not even discussed within families. The article also emphasizes that, according to Hispanic culture, there are two distinctly different types of gays: the 'marica', which is the more effeminate gay, and the 'maricón', which is the more masculine gay. The former is considered a 'woman', while the latter is considered a 'heterosexual male', due to the latter's role in sexual activity. The article then goes on to explain a bit of LGBT history of the Hispanic culture, such as the first gay march in Spain, held in 1976. It also introduces the idea that lesbianism is rarely acknowledged in Hispanic culture, although it can be found in some feminist literature. The article suggests that the idea of being 'gay' in the Hispanic culture is not existential, rather that is just one part of one's identity, while not defining that identity, and that in itself can be more liberating for gay men and women in this country.
Writing these types of blog-entry lengthy analyses in Spanish seems to have helped Charlie to think through the implications of the lives of other queer people and connect them back to his own. Participating in the research project for the class became transformative for him: he not only addressed the plight of LGBTQ people in Latino/a cultures, he also came out as gay and as a supporter of LGBT rights himself.
Again, in his reflective post about his experiences participating in the class, he writes:
This project made me realize that life is too short to not be yourself. It is too short to live in secret. In conclusion, I think that I learned more about myself than the actual topic…Before doing this project, few members of my family, such as my mother, my cousin, and my aunt, knew of the fact that I was gay. So, I decided to come out of the closet to all the people of family, to all my friends, and all my coworkers that didn't already know. And let me just tell you all; it was the single most difficult thing I've ever had to do in my life.
In Literacy, Sexuality, & Pedagogy, Alexander points out that students like Charlie are often way ahead of the curve on issues of sexuality in the classroom. He took the risk of turning a semester‐long assignment aimed at improving his Spanish-language skills into an opportunity to make tremendous gains in his own journey toward self acceptance. He carved out his own space personally and intellectually. This is truly an example of a sexual literacy for Charlie. He developed ways of talking about his own sexuality and journey as an LGBT person while also becoming a better communicator and writer (and advocate for human rights).
[Go to "Making queer Participatory Space"]
---