transnational literate lives in digital times: chapter 2.5

digital media & transnational connections: from Sarajevo, Bosnia-Herzegovina, and Sydney, Australia
Cynthia L. Selfe, Gail E. Hawisher, Patrick W. Berry, Gorjana Kisa, Mirza Nurkic, Tessa Kennedy, and Kate Polglaze

Representations of Kate online. Click on image to view a video of Kate discussing global ethics <transcript>.
CHAPTER 2: Kate Polglaze
Kate Polglaze was born in Australia in 1986 and grew up in Sydney. Kate started assuming her own particular kind of transnational identity after spending a gap year—between high school and university—in Japan, as she explains in the opening video. She was clearly proud of maintaining a large network of friends in various countries around the world, and she depended primarily on digital networks to correspond with these friends. An avid reader and a good student, Kate told us that she relied on public schools as a gateway for developing digital literacy for much of her early literate life. It was in elementary school, for example, that she first learned to use computers at the age of 7 or 8.
Kate's family did not purchase a computer for the home until she was in eighth grade in 1999. She quickly took to computers, however, during both her secondary and collegiate schooling, and by the time we talked to her, the majority of her reading and writing was done online—not only school papers and assignments, but also self-sponsored writing activities.


Representations of Kate on Facebook

In her classes, like many Australian children raised in the 1990s, Kate had acquired a broad base of skills to support her communicative exchanges in online environments. Click on the table below to see results from Meredyth and his colleagues survey (1999, October) of students' computer use in Australia and where they were acquired: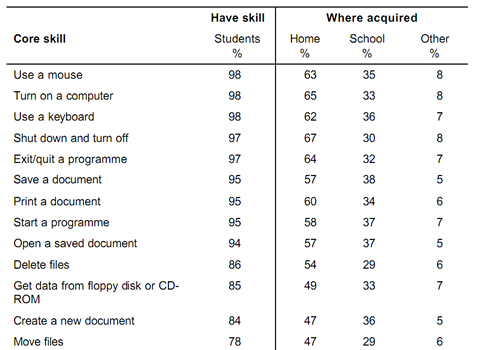 Students basic literacy skills and where they were acquired (Meredyth et al., 1999, October)

When we met Kate at the University of New South Wales, she was majoring in pharmacology and minoring in Japanese. Her love of the language was inspired in part by a seven-month gap-year exchange in Utsunomiya, Japan, where she learned to speak Japanese and came to appreciate the country, its culture, and its people.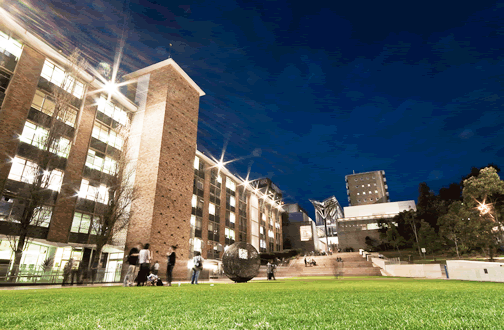 University of New South Wales by Flickr user Hai Linnh Truong (Linh_rOm)
Click on illustration below to view growth in students' enrollment outside their country of citizenship, 1975-2005, as reported in OECD (2011, p. 320):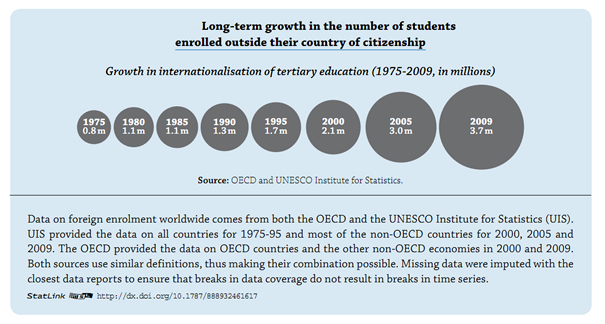 When she returned to Australia, Kate identified her minor area of study as Japanese so that she could continue her language study. In digital communication environments, Kate continued to correspond with friends she had met in Japan—both Japanese- and English-speaking—and became acquainted with new friends as well. One of Kate's primary ambitions was to return to Japan and teach English there.
Kate told us that her preferred forms of communication with friends were exchanges in online spaces such as Google Chat and MSN Messenger, noting that she also used SMS and e-mail depending on the people she wanted to contact, her purpose in contacting them, and their access to ICTs. In particular, it was the instantaneous nature of these exchanges that Kate liked most, because they seemed closest to the kind of "real Interaction" she so much enjoyed with people in other countries.

"When I was about 7 or 8, we had a computer in the classroom, and we used basic word processing. You'll see this program called LogoWriter, which was fun because it was a little turtle that we got to steer around the screen, but I didn't get a computer in the house until…Year 8…it was a while before I had a personal computer that I could use."

Kate remembers her early days with computers <transcript>.



"It is primarily [in] Japan that I communicate with people. I have a couple of friends in Canada. I have a couple of friends around the United States, a couple in London . . . [when] I do go overseas, I'm guaranteed [a place] almost anywhere I go."

Kate describes the networks she later formed around the world <transcript>.

In one comment, Kate explained that such online exchanges helped her cope with contemporary news accounts of terrorist activities in the countries where her friends lived. She used these communications not only to reassure herself that her friends were untouched by violence, but also to get additional perspective on what she considered to be hyperbolic media accounts.
It was within such online exchanges that Kate also found the kind of intercultural perspectives she most valued—and those that provided her with an ethical foundation informed, in a comparative sense, through the understandings and ethical codes of people born into other cultures. Her exchanges in digital communication environments, she maintained, allowed her to broaden her understanding by taking the "best bits" from other cultures and shaping a kind of transnational personal ethics.
Kate was also regularly engaged in writing fan fiction. In particular, she focused on Dragon Ball Z, a well-known Japanese anime series, and on the Japanese boy bands, like Ichigeki, that she and her friends admired.

"I still do write fan fiction. It's now based on Japanese boy bands, which are my current obsession."

Kate on writing fan fiction <transcript>.


"I tend to avoid chat rooms because there is a whole range of people in there. E-mail I don't use so much, although I do use gmail, which is almost similar to a chat program in terms of how instantaneous[ly] the messages can be sent and received and refreshed. I use chat most of the time because it's instantaneous feedback…and the closest sort of interaction I can get to someone that lives in another country."

Kate describes her online communication practices <transcript>.

One of Kate's Facebook profile pictures

This cross-cultural understanding seemed to be a key characteristic of Kate's identity in transnational contexts and, she pointed out, of those of the friends who were closest to her. In her words, such understandings made her a "better person," one informed broadly by the codes of other cultures as well as her own, and one concerned in her actions with "fairness," "justice," and "what's right…with other people."
Perhaps just as important, Kate also came to rely on digital communication environments for two related self-sponsored literacy passions. Along with writing fan fiction, she maintained an active series of friendships with students in other countries—not only those she had met in Japan, but also those living elsewhere around the world.