transnational literate lives in digital times: chapter 4.2

acts of translation in the academy and across national boundaries
Gail E. Hawisher, Patrick W. Berry, Cynthia L. Selfe, Vanessa Rouillon, Ismael Gonzalez, and Hannah Kyung Lee

Vanessa and her partner, Simon: Click on image to view Vanessa's thoughts on visual literacy
as well as photographs of her and her family over the years.
CHAPTER 4: Vanessa Rouillon
For Vanessa, born in 1969 in Lima, Peru, academic English and writing have always played a prominent role in her life. In her writing process video, she represents herself as someone who is totally immersed in academia, but also as a human being who has a wry sense of humor, which emerges in her depiction of her literate practices. Vanessa left her parents' house in Lima in her early 20s to study in Chile and then went on to work in Santiago for several years before moving to the United States.
Of her literacy practices, she states:
"My literacy practices have to do with a narrow 'culture,' which would be that of my parents' and grandparents' environment, where reading was what adults did for leisure, and where I had access to literacy tools (due to my parents' efforts). That may not have been the case of average Peruvian households, since Peru is a poor country."
Vanessa's movie: "My Writing Process"

Vanessa's video begins with the words "writing an essay implies reading, eating, thinking, eating, revising, eating," and we watch as Vanessa's paper emerges on the screen. "Denial: I'll be finished tonight" flashes across the video, and she walks back and forth between the computer screen and extracting Lean Cuisine or snack food from the refrigerator. When we see her again, she is sitting in a La-Z-Boy chair, feet up, reading but really wondering what Simon, her partner (at another university), is doing. As we listen to Vivaldi's "Summer" violin concerto rush by in the background, Vanessa checks her cell phone and sees that Simon is calling her. Later, images of Vanessa's book, covered in Post-its and propped against her computer screen, come into view as she reads. At times, Vivaldi's music conveys a sense of calm, with Vanessa at rest, reading and thinking; at other times, viewers experience with her the anxiety and turmoil of her writing as printed words fly up across the screen, conveying nothing of the comfort an American La-Z-Boy chair is supposed to provide.
She reads, for example,
"[imageword's] doubleness is complicit in the physiological creations of bodies—both as chemical matrix and as coding in the cellular process of embryogenesis" (Fleckenstein, 2003, p. 165).
She follows these words with a resounding "HUH?" spread across the width of her screen. Now, turning to her cat, she says, "Let me go," expressing her exasperation with all things at the moment. The repetition or iterative processes in her writing life become evident as she again flashes, "Denial: I'll be finished tonight," and returns to the kitchen yet another time for coffee and sustenance. She moves to calm herself by watching geese out her window, but then tells us that her deadline is approaching "like the face of Kong." The "narrow culture" of her parents, in which educated people read for leisure, eludes Vanessa in this, her academic life.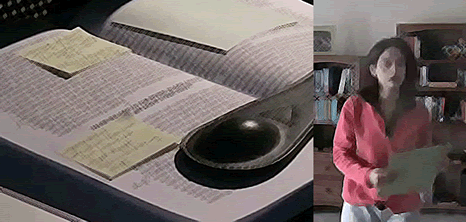 Two images from Vanessa's writing process movie
Although Vanessa wraps herself in a traditional Peruvian blanket while reading, when she writes she inevitably turns to her favorite writing tool: Post-its, a relatively recent development in the world of note-taking. In her video, she attaches Post-its to the pages of her books as she reaches toward her computer and types out her thoughts and jottings while at the same time petting the cat that finally has settled in her lap. Instead of using Munch's The Scream, as did the previous chapter's Yu-Kyung Kang, to express her angst about writing, Vanessa includes a film clip of King Kong and Fay Wray, with Wray's mouth poised in a scream. Vanessa's use of clips from King Kong reinforces her view of writing in the academy as "excruciating," her interpretation of how Victor Villanueva understands his early writing life after she read Christine Casanave's (2002, pp. 228-232) Writing Games. At one point following the King Kong clip, Vanessa says, "God works in mysterious ways, I work with Post-its."
And she writes on Post-its in English, not Spanish, although she has lived in the United States only since she was 33, when she moved to Illinois to attend the university for additional graduate work. English, like academic discourse, has become a language in which Vanessa is immersed as she goes about her studies, her teaching, and tutoring in the university writing center, the Writers Workshop, as well as at a local Illinois prison.
She describes her relation to the languages in her life like this:
"As an academic, I hardly get to see any Spanish in any of my own writings or readings. In any case, I am now becoming familiar with a Peruvian text from Huaman Poma de Ayala (a letter written to the King of Spain centuries ago), which I studied briefly in high school, but would never have thought of finding [it] in one of my Writing Studies classes…. I am coming up with lesson plans for my rhetoric class mixing languages, written texts, and images.

As a consultant at the Writers Workshop, I have held some sessions in Spanish, only because our director felt this could help the writer. The interesting thing is that I kept coming back to English. I couldn't see myself continuing in Spanish. In [a local prison] where I also do tutoring, some inmates talk to me in Spanish, and I have given feedback in Spanish on their work in English. I sounded different. But this has been the case only because I was spoken to in Spanish; and even then, I did switch to English."
Vanessa's cat, Avelino; Vanessa at graduation with her mother in 2008;
her father in his office in Lima


When asked further about the role of Spanish in her use of digital technology, she explains:
"Spanish seems to be relevant once I [leave campus], and come back home from school. Spanish is what my husband and I speak at home…. Both languages seem to have their spaces in my lives (academic and personal), and one hardly ever crosses the other.

Spanish is the main language of my Skype communications and texting with my family. The only e-mails I compose in Spanish are directed to one dear friend in Santiago. I only open one Peruvian website (online newspaper) in Spanish, and lately, my husband reads it and tells me about it during dinner.

I am fluent in Spanish and English. I grew up speaking both. I have just realized that I use them today, just as I learned them growing up—English in school, and Spanish at home. I have lost the little French I had. (But I will take lessons pretty soon!)"
For Vanessa, English is the language that she most commonly turns to in her academic work, with her reserving Spanish for intimate moments with family and close friends, whether online or offline. As she emphasizes, English is the language she has deployed for her entire life as far as schooling is concerned; she nevertheless agonizes, like the American students in the earlier Literate Lives study (2004), over her composing while fulfilling the requirements of her course work in remarkable fashion. Although she spent a good chunk of her life in South America, when it comes to all things academic Vanessa prefers "to lose her difference rather than center it" (Romano, 1993, p. 5).