transnational literate lives in digital times: chapter 5.2

global digital divide: from Nigeria and the People's Republic of China
Cynthia L. Selfe, Gail E. Hawisher, Patrick W. Berry, Oladipupo "Dipo" Lashore, and Pengfei Song

Oladipupo "Dipo" Lashore: Click on image to view photo montage.
CHAPTER 5: Oladipupo "Dipo" Lashore
Oladipupo "Dipo" Lashore was born in the University Teaching Hospital in Lagos, Nigeria, on 27 May 1984, one year after General Mohammed Buhari took command of the Nigerian government. Buhari's move was characteristic of the political upheavals marking the country's history from 1966 to 1999. As Dipo recalled:
"I was born into [and lived under] military rule until May 29, 1999, when the civilian government was sworn in. There was oppression of the civilians by the military. The press was not free to publish the truth. There was no accountability in the management of the country resources. All the infrastructures were completely neglected and mismanaged. Electricity was epileptic, water supply was almost [nonexistent], and communication was at its lowest development. Before I left Nigeria all these [were] being addressed by the new civilian administration. News reaching [me] confirms that things have started improving."
The third child of five in his family whose ethnic heritage is Yoruba, Dipo was fortunate, despite his country's troubled circumstances, to grow up in a family whose economic situation was, as he described it, "comfortable." His father, who had planned well for the emergence of the information society, was a "computer marketing manager as well as a computer engineer," and his mother a "chartered accountant." Both parents were the first generation in their respective families to pursue advanced educations, an accomplishment achieved only with tremendous effort:
"My grandfather went to elementary school and can read and write. My grandmother did not go to school. My father has [degrees in] OND, HND Electrical & Electronics Engineering. B Sc. (Second Class Upper) in Business Administration. M Sc.(Marketing). My mother has [degrees in] OND & HND in Accounting and has a professional certificate in Accounting by a body called ICAN (Institute of Chartered Accountants of Nigeria). I remember when my father and mother were studying for the examination, my father [would] be away for weeks, only [coming] back on weekends, while my mother studied late in the night. She used to go to lectures and come back very late when we must have been sleeping."
With this background of intellectual and professional accomplishment, Dipo's parents both recognized the importance of schooling for their children. As he observed:
"My dad and mum value education a great deal…. All my brothers and sisters are made and encouraged to go to school to read and learn. My dad would tell me that I should try to strengthen myself to do the rigorous work of reading, that the end of the hard work will be greatly rewarding.

My father and mother…read at home. They read newspapers, journals, and [the] Bible. At times they do office work as well. For the purpose of studying for their examinations they used to read a lot…. I [can] remember them staying [awake] late into the night while studying. I [can] still remember my father staying away in the university because of [the] need to work undisturbed.

[My parents would say,] 'Your writing tells much about who you are, so write well' and 'Education is the greatest asset you can give a child.'"
In 1994, Dipo left elementary school and moved on to secondary school, one year after Moshood Abiola, a Muslim Yoruba, won a nationwide presidential election. Abiola was subsequently arrested, and later died. Below is a clip of Abiola speaking to the BBC in 1994.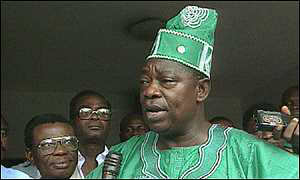 Moshood Abiola: Click on image to hear 1994 BBC audio clip ("World: Africa,
Profile: Moshood Abiola," 1998, July 7) <transcript>.


This highly charged event [of the election] sparked a nationwide pro-democracy strike that ended only when the Chair of the Joint Chiefs of Staff, General Sani Abacha, stepped in, reformed the current political situation created by the former military ruler, and formed a civilian Interim National Government (ING). In the face of these ongoing political struggles, the Nigerian economy suffered. Although more than $200 billion in oil had been extracted within Nigeria, for example, the per capita income remained at $300 (allAfrica.com, 2000).
Such events, while disruptive to the nation as a whole, figured less centrally in Dipo's life because he was attending a well-known boarding school in Badore, Nigeria. As he recalls the experience:
"It…[was] a very big school where I learnt to read more on my own than depending on teachers. It was a boarding school, and we [had] time to go to class, to listen to what the teacher had to say for the lecture; time to go and eat at the dining hall, and also time to do some schoolwork (like cutting the grass) and…sporting activities.

Mathematics, English, Social Studies, Business Studies, Yoruba Language (my native tribe language), Igbo Language (another native tribe language), Introductory Technology, Further Mathematics, Physical Education, and some other ones which I cannot remember now were studied by me in my Junior Secondary school. Social Studies, Business Studies, Igbo Language, Introductory Technology, and Physical Education were removed and substituted with Chemistry, Biology, Physics,Technical Drawing, [which] were taught in my Senior Secondary school."
To support his son's intellectual efforts and to encourage his son's emerging interest in computers, Dipo's father purchased a computer in 1998, when Dipo was 14 years old. Dipo says:
"My father works in a computer company called Data Processing Maintenance & Services (DPMS) Limited, formerly called IBM World Trade in Nigeria. He decided to buy a computer for the family…to expose the family to computer education. My father encouraged us by bringing a colleague in his office to teach us. The computer was bought for about $1,000.00. My father told us that it would be deducted from his sales commission.

The first thing we learn[ed] was playing games. Later we started to use it to draw. Mum used it to do her office work, e.g., accounting using Excel. We learned how to type with it. Later we learned how to load programs into it. We also used it to play music. We got some textbooks and CDs to play on it. We used it to write letters. My brother who is studying architecture used it for computer-aided design.

Since my dad bought a computer for the family to use…[he] has been continuously encouraging not only me, but the entire family, on making profitable use of computers and not only…playing games all the time.

Using the computer was my best hobby. If I am not eating or reading, then I will be on the computer. My parents at times intervene when I struggle with my senior brothers to use the computer. On most weekends [while] my parents slept, I normally woke up very early to work on the computer."
Dipo was given formal instruction in English as soon as he began to attend elementary school, and he was also encouraged informally at home by his parents to develop his skills:
"I was taught or instructed with English right from my nursery school, but I can't exactly remember when I began to combine the alphabets together to speak English. I would probably say that I started speaking English when I was in Primary 1, in elementary school, although I initially made grammatical blunders in my speech…. I was encouraged to continue speaking English, especially when my father talked to me with English.

If you include the Alphabet…as 'writing English,' then I can boldly say that I started writing English in 1987, at my nursery school, Onward Nursery, and primary school, Orile-Iganmu Lagos in Nigeria."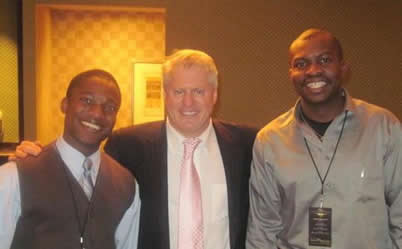 Dipo and colleagues

For Dipo, whose informal literacy education had begun at home, school was both a pleasure and a challenge. He considered his elementary school, for example,
"a nice place to get qualitative education. I really enjoyed it because it was there I was motivated to always try to get to the top. I was taught discipline and morality here. It was a big school where we also do various sporting activities like running, etc.

I liked Mathematics best because it involved tasking the brain and also making calculations, which have only one answer that you will need to get. I liked English (essay writing) least because it involves being judged on what has been written down on a topic and this never has one exact answer; therefore, one is unsure of what one is going to get based on one's piece of writing."
In his English classes, Dipo learned "how to write or make essays, how to answer comprehension passages and…the meaning of some complex words." In addition, he "wrote essays for competitions," although he couldn't remember qualifying for any prizes or honors in such arenas.
It was also in elementary school that Dipo first came into contact with computers—machines he considered wonderful because they provided an environment for playing new kinds of games. As he tells the story:
"Actually, I came in contact with computers at elementary school when we were…taught the use of computers even though we did not use [them] often. But when I had the chance of being near any computer, I [would] go and play only games on it because that was what I thought computers were mainly made for. It was Pac-Man I usually [enjoyed] playing….  If my friends…had access to computers, they would prefer playing games….

Because of the way I enjoyed playing games on computers, I thought at first of being a computer scientist. But later, [I] changed…to Electrical Engineering. My entire family liked using computers; my brothers [used them] to do their architectural assignments as well as some other engineering homework."
By the time Dipo graduated from high school in 2000, the political struggles in Nigeria had stabilized under the leadership of democratically elected Olusegun Obasanjo, who reinstated the country's new constitution, drafted in 1976, and directed the transition to a civilian government with parliamentary and presidential elections. At this point, Nigeria began serious efforts to revitalize its economy (allAfrica.com, 2000), but technology use in Nigerian colleges was still quite limited and, as the time had come for Dipo to apply for a university-level education, his family considered sending him to Great Britain.
As Dipo remembers:
"My family never thought of sending me to [the U.S.] for my education. It came by accident. My father went to collect [the] UCAS form just for a trial to send me to [the U.K.]. A friend saw him with the form and convinced him that it is cheaper to read in [the U.S.] than in [the U.K.]. This is how my father started making inquiries. I registered for TOEFL and SAT coaching lessons and the examinations. I did them and passed. This explains my doing my degree program in [the U.S.] today.

My family thought the idea of being in the United States was something wonderful and significant. They thought it was a place of real comfort compared to Nigeria. They think that life in the United States is far better than life in Nigeria. They would think that anyone in the United States is enjoying [life]."
Throughout Dipo's childhood, presidential elections came with controversy. Reporting on the 2003 election in Nigeria, Somini Sengupta (2003) wrote, "Looming over these polls is Nigeria's calamitous past. The country has never managed to move from one civilian government to another. The last time a civilian government held elections, 20 years ago, they were followed by a military coup, led by Mr. Buhari." Buhari was reported as contesting the election in which Olusegun Obasanjo was declared the winner.
Controversy also accompanied the 2008 election, when election results were once again disputed. General Buhari is reported as saying, "'What happened on Saturday, April 12, in many parts of the country, fell short of the minimum requirements for a free, fair, credible and transparent election" ("Challenger in Nigeria"). Below is a Global Pulse video, "Nigeria, Kenya, and the Rule of Law" (2008, March 12), which chronicles how different media sources (NTA, Nigeria; CCTV, China; NBC News, U.S.; TV5, France; Al Jazeera English, Qatar) reported elections in both Nigeria and Kenya.



Click on image to access the Global Pulse video, "Nigeria, Kenya, and the Rule of Law" (2008, March 12), that discusses how different media sources reported elections in Nigeria and Kenya <transcript>.


In 2002, Dipo was accepted at Michigan Technological University at the age of 19 and enrolled as an Electrical Engineering student, becoming one of 586,323 international students and 5,816 Nigerian students to study in the U.S. that year, 70.7% of them attracted to careers in computer studies, science, engineering, and other high-tech disciplines (Institute of International Education, 2003). Dipo says:
"My friends believe that the computer help[s] them to be able to do their work well and efficiently. For instance, it helps them to be able to print out their documents; they can use it to watch various kinds of movies. They can also use it to listen to music, book their flight tickets from the Internet, make series of presentations and so on. They admire the use of computers a lot and for my American friends, there is no day that they do not use the computer."
Dipo himself wrote e-mail to his parents and sisters, and contributed to the listserv of the African Students Organization. At the time of our interview, he had experience in downloading science fiction movies from the Web, visiting chatrooms, completing assignments for classes online, making PowerPoint presentations, creating poetry Web pages, sending online greeting cards, doing research on the Web, downloading software from the Internet, working with his own digital photography online, and playing games like FIFA 2002 and Need For Speed in digital environments. When asked whether or not he was working with global information systems, CAD-CAM, simulation software, or 3-D rendering packages, and whether he was making movies, Dipo's response was, "Not yet."
In terms of his digital literacies, Dipo noted:

"I would say that even though reading or writing in computer-based environments contributes to the challenges/problems I face when writing, I have come to like and embrace the use of computers.

Making use of Microsoft Word to correct little mistakes I make along the way when typing out my homework is what I consider of great help because all one need[s] to worry about is the organization of one's writing. With the use of [a] computer, one could [do] a lot of [research] on different readings that could help bolster one's writing strength. One could even research into different readings so that one can know a lot about the topic one is meant to write about, thereby enabling one to make a wonderful, outstanding, and superb writing."
Had Dipo remained in Nigeria for his collegiate education—had his family not been able to afford to send him abroad, had they not had the connections and the wherewithal to pursue this option—he would have had to develop his digital literacies within a very different cultural ecology. In 1996, for instance, when Dipo was attending high school and preparing for his university study in the U.S., Nigerian universities were able to offer most students only limited access to computer networks for the purposes of communication.