transnational literate lives in digital times: chapter 3.4

cultural designs for writing digitally: from Urbana, Illinois, and afar
Gail E. Hawisher, Cynthia L. Selfe, Patrick W. Berry, Maria Lovett, Shafinaz Ahmed, Sophie Dewayani, and Yu-Kyung Kang

Yu-Kyung Kang with family and online. Click on image to view a movie, composed from Yu-Kyung's portfolio,
in which she reflects on how she found her way to the field of Writing Studies.
CHAPTER 3: Yu-Kyung Kang
Although Yu-Kyung Kang, from South Korea, brings to her writing space the Korean Yahoo site, she also surrounds herself with Portuguese music (Antonio Carlos Jobim's "Girl from Ipanema"), work by artists from the Norwegian Edvard Munch (The Scream) to the Spanish Salvador Dalí (The Persistence of Memory), and Chinese pillows from T.J. Maxx—all of which circulate as part of the larger global landscape. Like Shafinaz and Sophie, Yu-Kyung—or Yuki, as her university friends affectionately call her—is aware of often occupying different subject positions, depending on her cultural options at the moment.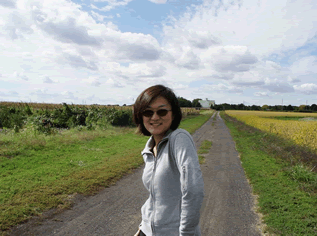 Yu-Kyung's Facebook profile image, 2011


In some ways, her willingness to accept the American nickname Yuki rather than insisting on being called Yu-Kyung symbolizes the conflicting positions in which she often finds herself. She would probably prefer to be called Yu-Kyung, since "Yuki" sounds similar to "snow" in Japanese and seems to neglect her Korean heritage. Her friends and professors, however, are understandably less sensitive to the issue. Through Yu-Kyung's thoughts and experiences on writing and academic life, as detailed in her writing process video, we begin to see the intermingling of her two cultural homes. (Click on the image below to activate movie. It may take a few moments to load.)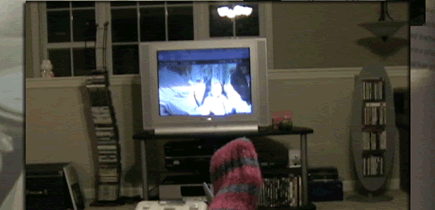 A scene from Yu-Kyung's movie. Click on image to access movie.


In the opening scenes, we see her screen saver, a Korean bear—a bit of home—before we quickly turn our attention to the CD that plays "The Girl from Ipanema" in Portuguese in the background as Yu-Kyung sets the stage for writing by arranging and rearranging the pillows in her apartment. Viewers take in the computer and the emerging piece of writing that she has begun. Anxiety over writing demonstrates itself with images and sounds of different cultural settings as we see the shaking image of Munch's The Scream but at the same time feel Yu-Kyung's frustration as the camera sweeps rapidly over her apartment with its StairMaster as equipment for exercise to calm jittery nerves. Yu-Kyung chooses, however, the television for a brief respite from writing; she flicks the remote control across a panoply of channels. She checks out the contents of the refrigerator before retrieving a bowl of Korean comfort food that will sustain her as she writes, this time to the background of the Portuguese music with English lyrics, and viewers are redirected to the computer screen and the writing that has begun to take shape. Yu-Kyung turns several times to the Korean Yahoo site, which includes an English-Korean/Korean-English dictionary that she understands as an essential tool for her writing process. As she writes, she watches her writing come to fruition in a space where sounds and images of global origin abound. The sound of ticking, for example, heralds the appearance on the screen of images of timepieces from the Spaniard Dali and his Persistence of Memory as Yu-Kyung crawls into bed with only the glowing light of an alarm clock to remind her of those writing deadlines that loom unforgivingly before her. Morning comes with the sounds of roosters announcing a new day and more writing. In viewing Yu-Kyung's video, one is struck by how her living and writing space in many respects typifies the multicultural, transnational literate lives these graduate students experience as they arrange and rearrange the scenes of their writing with the global artifacts that shape and reshape their academic and personal identities.
In writing about her video, Yu-Kyung says,
"My writing process is continuously in the process of changing with the more experience I accumulate. And at this point, it is difficult to pinpoint what was influenced by the Korean culture because now the Korean and the American culture coexist in my system."
We would add that other cultures in addition to that of Korea or the United States make contributions to the influences that shape her literate life. As represented in the Brazilian music as well as the Norwegian and Spanish art, these art forms circulate in the media across global boundaries (Appadurai, 1996) and make themselves known the world over.
The coexistence of Korean and American cultural perspectives is often on Yu-Kyung's mind. When we first met Yu-Kyung and she introduced herself to her classmates, she said that people sometimes think that she is Korean-American because of what many perceive as her American-inflected English, but that she is really Korean.



Yu-Kyung with her husband, Cheon Joo Yoon, and friends in Urbana, Illinois

As a child, however, she spent considerable time in the United States. Yu-Kyung was born in 1974 in Seoul, Korea, but moved to Nashville, Tennessee, in 1982, when she was 8, and went to school in the United States until she was 13. Along with her mother and younger sister, her father brought Yu-Kyung to the United States while he was working on a Ph.D. in mathematics. Today Yu-Kyung's family lives in Daegu, Korea, where her father is a math professor and Dean of Planning Affairs at Keimyung University. After earning her own B.A. in Fashion Design with a minor in the English language and literature at Keimyung University, Yu-Kyung returned to the United States in 2003 at age 29 to work on an M.A. in Teaching English to Speakers of Other Languages (TESOL) at the University of Illinois, Urbana-Champaign. She needed to convince her parents that this was the right decision for her. She explains:
"I…persuaded my parents, who weren't too enthusiastic at first about their oldest and relatively 'old' daughter going off to school again without fulfilling her responsibilities (marriage), that I would come right back and teach as soon as I received my M.A. degree. Into my second semester, however, opportunities started to unfold again and everything started to fall into place."
The family and cultural expectations for women that came into play for Yu-Kyung are not unlike expectations for women the world over, but such expectations tend to stand out disproportionately in societies that are not our own. Shafinaz and Sophie also revealed in their videos cultural attitudes in their countries that sometimes differed from those in the United States, especially in university settings. Shafinaz's grandparents passed down to her standards of proper behavior for women in Bangladesh, and Sophie features only silhouettes of her dancing in the video when her head is not covered according to cultural standards of appropriateness. Despite Yu-Kyung's family's misgivings, however, Yu-Kyung not only went on to earn an M.A. in TESOL, but also decided to apply to the University of Illinois's Department of English as a doctoral student in Writing Studies. She is currently hard at work preparing her dissertation, which by every indication will make its mark on the field of writing studies and more.



| | |
| --- | --- |
| | |
Yu-Kyung in Chicago and with her daughter, Sol


Her graduate studies in the United States have nevertheless made her question the politics of teaching undergraduate academic writing. She states:
"There is one other responsibility factor that lingers in the back of my head as I'm teaching my international students. Writing is a reflection of one's thoughts. By compelling the students to practice and master the American academic writing format in accordance to its rules, am I forcing them to think like Americans? Am I helping them to lose their cultural identity…?"
And she wonders if losing a "cultural identity" or forgetting how to use her native language for academic purposes is a good thing. After reading Joseph Harris's (1997) A Teaching Subject, Yu-Kyung found herself sympathizing with Sylvia, a student in Harris's study who resisted losing her home language:

"…when I identify myself as a non-native speaker of English struggling to fit in with the culture and language of the dominant native-speaking environment, I sympathize with Sylvia's student when she says she's afraid of losing her 'private language' (Harris, 1997, p. 104). I, too, feel that I am losing some part of my already existing language. Actually, to be more precise, I wouldn't describe it as 'losing' but rather 'forgetting,' in some aspect, how to use my native language for such academic purposes. But come to think of it, what is the difference in 'losing' and 'forgetting' if I'm reluctant to use my native language because I don't know how to anymore?"
These insightful questions have also at times been asked in the field of writing studies. As Robert Yagelski (2001) argues, when we analyze "the relationships among writing, technology, and our sense of self," we need "a pedagogy that emphasizes experience in order to foster a self-awareness based on the notion of non-duality—a self-awareness that in turn fosters just and sustainable ways of being-in-the-world. Such a pedagogy is not directly concerned with specific skills, bodies of knowledge, or theories so much as with how we experience ourselves and others in the world through literate activity."
For Yagelski (2001), and perhaps for Yu-Kyung, the western understanding of the self as autonomous as called for in academic writing can conflict with understandings of the self and can also be detrimental to writing pedagogy. We would argue, too, that in the case of students with transnational connections in other non-western cultures, current pedagogies also teach them to master an academic discourse without fully examining how it might differ from academic writing in their own homelands. In different words, Sophie echoes Yu-Kyung's concerns when she writes about the need to wear multiple masks inside and outside the academic community. Similarly Yu-Kyung questions whether her written work in English is her own voice:
"If I look at my writing holistically, I would have to say 'yes it is my own voice.' But…I sometimes find it easier to imitate language and pretend to be someone else in the process of studying to acquire my second language."
Interestingly, the writing process videos and use of digital media often allowed these students to bring to their composing those experiences and ways of thinking that couldn't find a place in their academic writing. Yu-Kyung goes on to say:
"This project has made me think a lot about technology and how it is perceived in our literate lives. To some, it is just a passive concept. To others, it means much more. Choosing to explore and go further with it makes it all meaningful."



Yu-Kyung at her grandparents' gravesite, with friends, and with her family


The stories of all three women in this chapter point to the complexity of writing and literate encounters that shape academic disciplines and our lives. Taken together, the reflective, representational practices shown in their three videos work to underscore new and dispersed ways in which writing and digital media are beginning to be understood. These reflections on writing and learning also begin to suggest how digital media tools can extend research into literate practices, including transnational ones.