Chapter 6
STIRRED, NOT SHAKEN: AN ASSESSMENT REMIXOLOGY

Susan H. Delagrange, Ben McCorkle, and Catherine C. Braun


Fair Use: It's Not Just for Lawyers Anymore
Ben McCorkle
the creation of culture was always a shared phenomenon:
an activity connected to spiritual sustenance and a
mutual confirmation of values between the creators and
their community. Only recently has it been found advisable
to withhold virtually all such creative activity
until it can be paid for. (Negativland, 2005)
Remix-based compositions can certainly be the result of complex thinking, sophisticated arguments, and technical expertise, but gauging these factors can be daunting for an instructor, and achieving these goals can be equally daunting for students. Offering students a clearly illuminated pathway to success for such assignments is therefore essential. Assessment instruments that help guide students through the entire composing process are helpful as rhetorical tools for navigation, lighting the path at various points along the way, and not merely justifying the grade at the end of the road. That's why when I designed a remix assignment for my lower-level digital media composing course, I wanted to make an assessment tool with a concrete touchstone that would help shape student projects from the initial moment of conception to the final moments of reflection and evaluation. Fair Use, the doctrine of U.S. copyright law that specifies the conditions and purposes by which people may be permitted to use copyrighted material in their creative work, offers students just such a touchstone, and it is a particularly relevant complement to remix culture at a time when issues of copyright and intellectual property are being complicated and renegotiated every day. What follows, then, is my description of the assignment design, as well as an explanation of how I incorporated Fair Use guidelines into the assignment. These factors not only helped students conceptualize and analyze their process, but also served as guiding criteria that I used to evaluate their finished products.
The Assignment
My digital media composing students created a remix of a movie trailer that disrupts, complicates, or otherwise challenges the underlying ideology in the original. They considered, just to offer a handful of examples, converting a romantic comedy into something that highlights its creepy stalker factor, foregrounding the slapstick nature of a run-of-the-mill slasher film, or updating a cinematic classic for today. Examples of this fairly popular genre abound, from classics such as Shining (a recut of Kubrik's chilling classic as a heartwarming family dramedy), to the exceptionally well-done Scary Mary (a frightening riff on Mary Poppins, Figure 6), or the simple yet effective Disturbing Strokes (a wordless mashup of ominous music over the opening credits of the schmaltzy 1980s sitcom Diff'rent Strokes, hinting at a more sinister back story). Students were allowed to incorporate some original content, but I stressed to them that the assignment was primarily an exercise in rearranging, combining, and transforming preexisting material. I asked students to accompany the retrailer is a short reflective statement (500–750 words) explaining the underlying argument in the remix, as well as the technical means taken to achieve the finished product.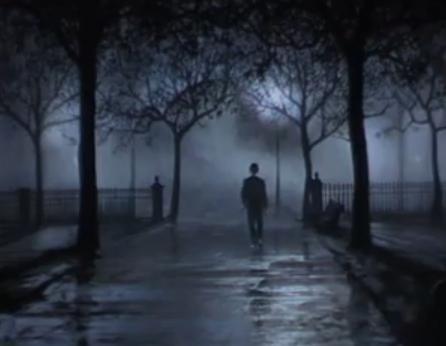 Figure 6. Scary Mary
As far as technology concerns go, I wanted to create a low threshold for the class to build their projects, so I asked students to grab video and audio content from streaming sites such as YouTube, using web-based solutions such as Keep-Tube, Zamzar, or the Firefox Video Download Helper plug-in to convert the files into editable versions. Additionally, students edited their videos in iMovie, and edited audio with Audacity or Garage Band; because students had used these programs in prior assignments or training sessions, they were already somewhat familiar with them.
Because I believe instructors of digital media should troubleshoot potential technical or conceptual problems, and also see if the assignment is engaging or challenging for students, I offered students a proof-of-concept remix that I created: 300 Apples High (see Figure 7) is a shot-for-shot remake of the trailer for the 2007 Spartan battle film 300, only using footage from various episodes of the 1980s animated series The Smurfs. (Incidentally, I don't recommend tackling quite such an ambitious feat, because sourcing similar shots, syncing audio, and making numerous edits was a time-consuming endeavor.)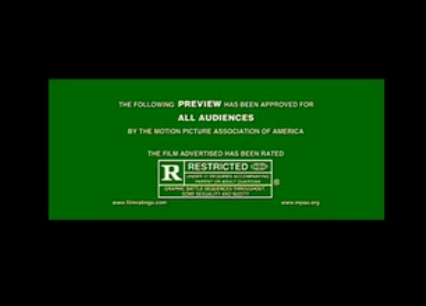 Figure 7. 300 Apples High
After showing the spoof trailer and walking the class through the editing process in iMovie, I go on to explain the rationale behind the piece, particularly how I see it functioning as a parody: The original film adopts an aesthetic of hypermasculinity and preoccupation with the male body that is undercut by the substitution of the diminutive, doughy Smurfs; furthermore, the original's ideological leanings, which are decidedly fascist and militaristic, stand in stark contrast to the Smurf 's more peaceable, communal lifestyle. This preliminary discussion helps set the stage for the introduction of Fair Use, a concept that serves as my Swiss Army knife of assessment tools.
Introducing Fair Use
The Fair Use doctrine provides guidelines that outline the limitations imposed on traditional copyright law—basically, the exceptions that allow us to sample, copy, quote, and remix without prior express permission to do so. Additionally, the statute goes on to offer examples of the types and purposes of texts historically protected under Fair Use: parody, criticism, commentary, journalism, teaching, scholarship, research, or some combination of these. According to Title 17, Section 107 of the U.S. Code, four factors have to be considered:
the purpose and character of the use, including whether such use is of commercial nature or is for nonprofit educational purposes;
the nature of the copyrighted work;
the amount and substantiality of the portion used in relation to the copyrighted work as a whole;
the effect of the use upon the potential market for, or value of, the copyrighted work.
The U.S. Copyright Office makes clear that these are established guidelines for determining Fair Use, and not necessarily insulating criteria (the amount and degree of borrowed content can be a subjective and varying standard depending upon the particular circumstances of a case, or the specific court hearing the case). I bring the topic of Fair Use up concurrently with introducing the remix assignment, explaining that it will not necessarily serve as a legal standard for us, but will instead be a way of helping us to understand and evaluate the assignment; nonetheless, it's important for students to be familiar with the factors that constitute a Fair Use defense, especially as they go on to become digital media creators beyond the confines of the classroom.
Implementing Fair Use Assessment
As the class works through every step of the process with this assignment, I try to emphasize Fair Use "commonplaces" as a central means of framing their thought, production, rationale, and ultimately my evaluation of the work. I begin by introducing Fair Use as a heuristic to help guide students through the brainstorming and conceptualizing phase, asking questions like: What is the overall purpose of the remix? Is it a critique or parody of the original? Exactly which aspect(s) of the original will the remix target to accomplish this goal (a theme, an aesthetic, or certain implicit ideological assumptions)? How and to what degree will the remix transform the original content, and will it feel sufficiently like a new piece? Such questions give students a scaffolding from which to begin thinking about their choice of target, as well as the editorial tone they will assume when juxtaposing various textual and audio elements.
Next, Fair Use serves as a backdrop for my face-to-face feedback during the initial composing stages. As students map out edits, locate audio assets, look for fonts, and storyboard trailers, I tend to press them on various aspects of the project's development, with questions like: Is the source of the humor in this piece fueled by genuine parody, for instance, or does it simply employ farce with no underlying critique? Is the project sufficiently transformative, or does it incorporate only a few sound effects while otherwise retaining the integrity of the original? This is the point at which the metacognitive seeds of rhetorical awareness begin to sprout, as students not only adjust their projects at the conceptual level by considering audience and refining purpose more clearly, but also begin to articulate the underlying logic and the rationale for their work. These conversations serve a couple of functions: First, they build continuity with the larger goal of rhetorical thinking I'm trying to cultivate, giving us a common theoretical language to talk about student projects; they also reinforce assessment criteria at another stage in the production process.
Once students have created working drafts of their pieces, Fair Use again stars as a central component of peer response. Because my classes have been sufficiently small (approximately a dozen students in each class), I conduct a studio critique session for this assignment, a model familiar to many art and design courses. During this session, the entire class comments on each individual project, pointing out strengths and weaknesses, suggesting strategies for revision, and asking the producer to clarify or explain the intent of the piece. While these sessions address important micro-level concerns such as synchronization issues, specific clip-editing suggestions, or adjustments to volume levels, they are also an opportunity to discuss how well the piece adheres to the spirit of Fair Use. I find that students will bring up the guidelines without any artificial prodding, wondering in one instance if a project that combined unedited opening credits from a television show with a section of a popular song was sufficiently transformative, or if the juxtaposition of elements constituted an explicit critique beyond the baseline humor of incongruity.
What is the purpose of the remix? Is it a critique
or parody? Which aspects of the original will it target
to accomplish this goal? How and to what degree will
the remix transform the original content?
Will it feel sufficiently like a new piece?

Like many digital media instructors, I have students turn in a short accompanying reflective statement or rationale, which not only provides students with the opportunity to apply their rhetorical understanding to a text with which they're intimately familiar, but also gives them the chance to address any technical shortcomings that may have kept them from fully realizing their visions. In the course of explaining my expectations for this statement, I ask them to discuss the Fair Use criteria we've been touching on all through this assignment, and argue how their piece successfully adheres to these criteria (incidentally, this is increasingly becoming a component of real-world digital scholarship, where online publications such as Harlot ask that submitting authors include a Fair Use statement defending their use of non-original content, if appropriate). By the point that students submit their assignments, I have a robust body of evidence to draw upon as I begin to grade them: conversations, critiques, a rationale, and the assignment itself, each of which has been informed, to varying degrees, by our Fair Use framework. I rely on all of these factors as I evaluate each piece. Although I don't use a structured rubric for grading, I do write up evaluative reports for the students, consciously working in the (by now) common terminology we've adapted throughout the process, commenting on how effectively they have transformed the original material into something sufficiently new and how well the piece works to critique the original.
Taken holistically, then, the Fair Use integrated assessment process looks like this:
Assignment Phase
Fair Use Implementation

1. Conceptualizing/ brainstorming

Language accompanying assignment prompt: As you plan your movie trailer remix, consider the following questions (based on Fair Use) to help guide your thinking:

What is your purpose for producing this remix (to parody, to critique, or some combination of purposes)?
How will you transform the original content into something new; to what extent are you re-editing, adding/deleting, or combining elements?
What themes, motifs, or controlling ideas do you find in the original content, and how will your remix call these elements into question?

2. Initial composing (interaction with instructor)

Consists mainly of informal conferences with students during studio time, in which I discuss with students how they've addressed Fair Use in their planning of the project. Additionally, I assist with technical problems and offer revision suggestions.

3. Studio feedback session (interaction with peers)

Consists of slightly more formal presentation of working edits to class; students are asked to:

present work-in-progress to class
explain concept, explicitly addressing Fair Use criteria in the process
pinpoint problems, raise questions for discussion, etc.

4. Reflection paper accompaniment

Language accompanying assignment prompt: "This remixed trailer will be accompanied by a 2–3 page reflective statement that explains the underlying argument in your remix, as well as the technical means you took to achieve the finished product."
5. Evaluation
Narrative reports focus in roughly equal degree on: quality of concept (how effective is the parody/critique in its finished form?), technical proficiency (amount and effectiveness of editing, clean audio/video mix, seamlessness, etc.), and critical stance (how persuasively does the student argue for a Fair Use defense, explaining how the final product comments upon the ideological position of the original content?).
Table 1. Remix Assignment
Because the proof of the pudding is in the eating, so to speak, I would like to offer readers a compilation of trailers that exemplify the kind of work that comes out of such an assignment (Figure 8).
Figure 8. Remix Video Compilation
Some of the highlights of this particular assignment include:
a trailer recasting the classic proto-slasher Hitchcock film Psycho as a romantic comedy—an attempt to highlight the thin line separating romantic obsession as it's usually depicted in the rom-com genre and violent sexual undertones characterizing the original film;
a spoof of the opening credits of The Beverly Hillbillies that seeks to undercut the folksy, buffoonish slant of the original series by mashing it up with the much more hip, rebellious soundtrack of "Ridin' Dirty" by Chamillionaire;
a technically and conceptually sophisticated trailer combining footage from the Pixar animated film A Bug's Life with audio from the violent Scorsese-directed Gangs of New York, which points out the plot-based similarities and visual parallels between the film's characters, as well as the central theme of anti-ethnic sentiment and resistance by oppressed groups;
an excerpt from a music video setting the 1927 Fritz Lang sci-fi classic Metropolis alongside music from the industrial group Assemblage 23, editing the video to suggest similar themes of automation and disaffection that carry through popular culture in the twentieth century;
a technically impressive remix of the audio from the trailer for the 1980s action hero throwback film The Expendables with video from various popular cartoons (The Simpsons, Family Guy, etc.)—the aim here was to deflate the hypermasculinity of the original film by replacing the original's muscle-bound actors with flabby, dim-witted counterparts;
Bond & Bonder, a slapstick mashup of audio from a James Bond trailer with footage from the lowbrow Jim Carrey/Jeff Daniels buddy flick Dumb & Dumber; and
an excerpt from a remix of footage from videogames such as Legend of Zelda: Twilight Princess, World of Warcraft, and others with audio from the Lord of the Rings film trailer to highlight the generic lineage shared by contemporary fantasy-based games and the Tolkien book series.
I like to think that these are the kinds of creative, rhetorically astute results you can get with clear, consistent evaluative criteria expressed throughout the composing process, coupled with a healthy willingness to experiment on the part of student and teacher alike.
Postmortem
Having gone through this process for two separate sections of the course at this point, I've been mostly pleased with how naturally the Fair Use criteria wove their way through this assignment, and how effectively they helped my students and me frame our conversations around the composing process. Ultimately, I believe Fair Use guidelines serve to adequately address the kind of rhetorical skills we generally try to cultivate in student work: pinpointing the purpose of a text, considering the potential audience, employing various logical and figurative elements in the service of creating a coherent argument. Indeed, I generally found students who were more successful at crafting persuasive and conceptually cogent reflective statements also produced the more sophisticated remixes in the first place. Although typically the combination of technical skills, conceptual vision, and critical reflection work in concert with one another, in at least one instance I recall a student's technically problematic product (inconsistent audio levels, mostly) was partially salvaged because of an analytically sharp concept coupled with a clearly articulated argument for Fair Use protection. Nevertheless, these criteria offer students more than simply a legal framework, but function to highlight the cultural, political, and rhetorical dimensions of textual production and reception in the digital age. To be able to draw on these commonplaces when confronting issues beyond the classroom (where, for example, YouTube's default setting seems to be to flag any and every submission that might infringe on copyright) will be increasingly useful for students who engage in the web's participatory culture.
I'm already contemplating productive ways of extending or refining this assessment tool. For instance, of all the components in this process, I felt that student written rationales ended up being the least effective component, and oftentimes included a perfunctory statement that the work was protected because it was parody or done for educational purposes—despite much more articulate, complex defenses expressed earlier in the process. Perhaps more careful framing on my part, indicating that the guidelines should be used as a basis for critical reflection on the remix, is in order. In the end, however, I do find this instrument appropriate not only for this particular assignment, but potentially effective for other digital media assignments that require refashioning preexisting material.
FAIR USE: THE LIST
Think of your evaluative instrument as an integral part of the writing assignment, not just something that comes at the end stage once a student project is finished; instead, make it something that helps students conceptualize, plan, and revise work along the way.
Create evaluative instruments that have real-world impact. If students are going to be creating work beyond the classroom in professional or personal contexts, then basing an evaluation on factors that speak to those real-world contexts is important.
Inform students about Fair Use guidelines; this will students well as new combinatorial forms of digital media begin to emerge. The Center for Social Media (2005) offers a free downloadable handbook that is a potentially useful resource for students.